Wells Fargo Home Equity Loan, Line of Credit
Wells Fargo Home Equity Loans and Lines of Credit are available at fixed as well as variable rates. Moreover, Wells Fargo Solutions offer a variable interest rate line of credit with a fixed-rate advance option. You can compare the various options online at the website of the bank or call 1-866-545-6858 to get instant help in choosing a right product.
It is also possible to get an estimate of rate and payment by using a home equity calculator, also available online at the website. Once satisfied you can call 1-888-667-1772 to know about the application procedure or how you can apply online.
Wells Fargo home equity group offers easy payment options for customers with a home equity account and there exists a customer center to help you handle your account safely. Besides making online payment you have options to pay by phone, mail, automatic debit or by personally visiting a bank branch. The payment address is different for different products.
Wells Fargo Home Equity Assist is a special division that aims at providing solutions to customers facing difficulty in payments. Call 1-877-628-9584 in case you have missed a few payments or are facing foreclosure. To pay off your loan in full call the customer service department to know your next step.
Wells Fargo Home Equity Loan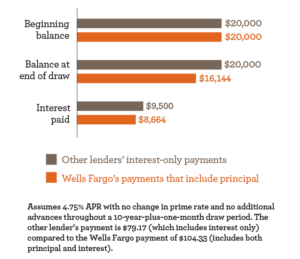 If you need immediate fund to buy something of a significant value or pay for something that requires a large sum of money, a Wells Fargo home equity loan may help. Under this program you get the amount in one lump sum, which you can then pay back over a period of time the same way as you did with your first mortgage. This loan program gives you the security of a fixed interest rate and your monthly payments also remain fixed over the length of the loan term. Along with a great control over your payoff schedule you also get the opportunity to save significantly in taxes.
Wells Fargo Home Equity Line of Credit
Also known as Wells Fargo Home Equity Account, a line of credit works like a credit card whereby you get the facility to withdraw funds as and when required. You are allowed to withdraw as much money as you have in the balance. When you pay off the withdrawn amount the fund becomes available once again for reuse. Low interest rate, tax deductibility, no closing costs and the possibility to convert into a fixed rate make this option better than using a typical credit card. A similar kind of home equity solution exists for mortgage borrowers in the form of Wells Fargo Home Asset Management Account that can be a smart way to achieve debt consolidation and pay for home improvement and education.
Wells Fargo Home Equity Customer Service
Contact Wells Fargo Home Equity Customer Service for anything you want to know about default, enhancement program, executive office, loan status, loc, loss mitigation, servicing and subordination requirements. The phone number to contact this department is given here:
Phone Number: 1-866-820-9199
The address to send your home equity loan payments is as follows:
Wells Fargo Bank, N.A.
PO Box 54180
Los Angeles, CA 90054-0180
The address to send your home equity line of credit payment is as follows:
Wells Fargo Bank, N.A.
PO Box 536205
Atlanta, GA 30353-6205
For more information visit the official website of Wells Fargo bank.